Apartments and Suites in the centre of Verona
Oriana Suites Verona
All the Italian charm of a vintage building on Via Oberdan.

Right in the old town centre, so you can visit the city like a true local.

So close to the Arena that you can hear its melodies on opera nights.

Choose your favourite suite between luxury, comfort and the best services of the Italian Hotellerie
Discover the 17 suites in the old town centre of Verona.
Look out from your suite, see the vaults of the Arena and admire the eternal charm of the Roman amphitheatre.
The 17 suites with modern, high-quality finishes are ideal for your business trips or for a holiday exploring the city. All the services and facilities are designed to ensure high quality standards and to make you fall in love with your Suite in Verona.

CLASSIC ONE ROOM APARTMENT
Your one room apartment in the centre of Verona is a mix of elegance and functionality. The ideal setting for a stay for 2 people. The 45 sqm and the large sleeping area with its king-size double bed guarantee you peaceful dreams.

The private bathroom and the modern, fully equipped kitchen-dining room are a must-have for your work, business or holiday stay.

1 private bathroom
with shower and services
SUPERIOR SUITE
A fusion of elegance and contemporaneity. The Verona Superior Suite welcomes you into the warm embrace of a light parquet floor, made from a mix of fine fir and maple wood. The space is filled with light and harmony.

The ambience is at its best with the comfort of a suspended king-size bed, like the sanitary fittings in the bathroom. All this gives a feeling of privacy and tranquillity. You will find in the modern bathroom an extra-large glass shower with the Neroli exclusive courtesy line with its extraordinary calming and regenerating properties, useful for your well-being.

1 double bed
1 sofa bed
1 private bathroom
with shower and services
DELUXE SUITE
The fully soundproofed Deluxe Suite is equipped with a sound system and air conditioning. The latest generation of windows and doors guarantee a peaceful night's sleep. The kitchen-dining room is equipped with modern accessories, allowing you to stay in a carefree atmosphere. A privileged balcony overlooks Via Oberdan and allows a glimpse of the ancient walls of the famous Arena.

Two luxurious bathrooms with a comfortable extra-large shower, are enriched by a courtesy line that blends the extraordinary calming and regenerating properties of bitter orange blossom essential oil. The moisturising and emollient characteristics of the natural extracts of vanilla and almond give you complete well-being.
1 double bed
1 sofa bed
2 private bathrooms
with shower and services
Services
Much more than an apartment, much more than a hotel.
Top services
Designer accessories
State-of-the-art equipment

Professional
Hairdryer
Plot
Sheets
Soft cotton
Towels
High-speed
Wi-Fi
Living room
Your new office
Top-quality
Mattress and pillows
Kitchenware
Everything you need in the kitchen
Complimentary toiletries
For all guests
Refrigerator
In all the suites
Coffee machine
and pods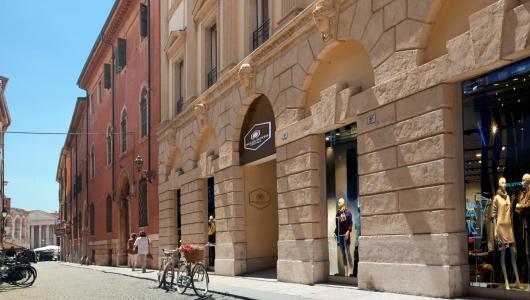 Early Booking
Stay for at least 3 nights and receive an immediate 20% discount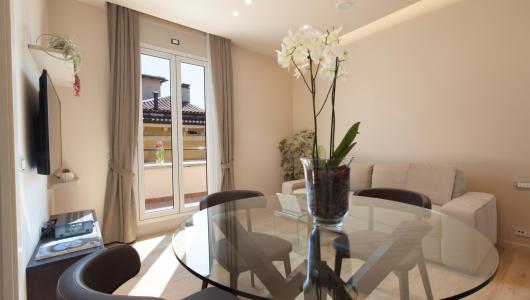 Special 30% discount for a long stay in Verona